Small changes, Big Results
| | |
| --- | --- |
| Posted on 15 February, 2016 at 10:35 | |
Here are a couple meals from my week!
Dinner: Wild Salmon, sweet potatoes, asparagus and an Eat Clean apple blueberry & blackberry crumble (made with oats, oat flour, honey, cinnamon, pecans, & lemon)!
Lunch: Panera Bread has a yummy Mediterranean Quinoa Salad. I get it with no dressing and add Hemp seeds! I love these convenient packs for busy days! And what a win to add 10grams of protein, 50% RDA in Magnesium, & 25% Copper etc etc
Breakfast: Delicious ancient grain porridge. Amaranth & Fereekeh grains with elderberry syrup, hemp oil, panaseeda oil, honey, cinnamon, sprouted pumpkin seeds, & blackberries.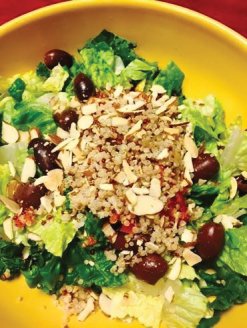 Categories: Nutrition
/