Small changes, Big Results
| | |
| --- | --- |
| Posted on 29 January, 2016 at 8:52 | |
DO YOU HAVE JOINT PAIN? 
There are few things more frustrating than to battle through injuries and limitations from nagging muscle pulls & joint pain from prior surgeries and over use!
I have been through 2 knee surgeries (ACL & meniscus), c-sections, minor wrist & shoulder pain, as well as several minor muscle pulls.
The most important thing to understand is that you must take care of your body! Health is a relationship between you and your body.
It will be very hard to live a fit lifestyle if you are constantly injured. Listen to your body. Always stretch, learn to breathe, and recognize the value of rest!
Three of the most effective homeopathic things that I have done to resolve and repair joint pain and injuries are
Epsom salt heals sore muscles joints etc and is high in magnesium which seeps into your body as you soak in the bath!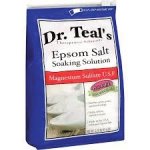 Dr Singha's Mustard bath with essential oils compliments the magnesium in the epsom salts to promote the healing environment your body needs.
Arnica comes from the arnica flower in tiny balls that dissolve under your tongue or in a cream that you massage into your painful area! Three awesome PLAYS in my PLAYBOOK for healthy joints and to reduce soreness everywhere in my body! 
Your health is a gift. Anyone that has been through a health challenge or injury understands this very well! Take care of yourself and be thankful for your health. LIVE FIT by valuing rest and taking the time through massage, warm epsom salt baths, icing post workout, and  learning about the benefits of arnica. 
Small Changes lead to big results.
Categories: Homeopathic Remedies
/